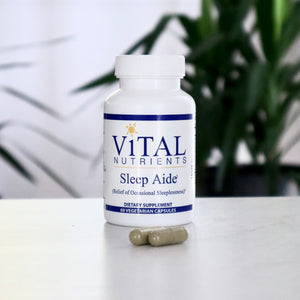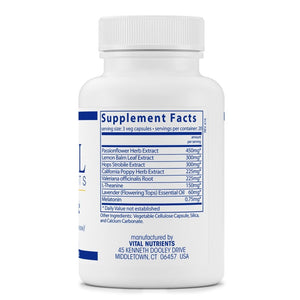 Sleep Aide Formula - Low Dosage Melatonin 0.75mg
Basic Info --
Brand: Vital Nutrients
Size: 60 vegetarian capsules
Suggested Use: 1-2 capsules, 2-4 times daily with food, or as directed by a healthcare practitioner.

Benefits --
Promotes restful sleep*
Helps calm the central nervous system*

Sleep Aide contains a unique combination of 7 botanicals and melatonin to help promote restful sleep, and provide support to help calm the central nervous system.*
The ingredient Passiflora Extract is an important factor in the phytotherapy for the occasional relief of tenseness, restlessness and irritability associated with difficulty in falling asleep.
California Poppy, L-Theanine, Lavender Essential Oil and Melatonin act synergistically to support the beneficial effects of the Sleep Aide formula.*
Sleep Aide provides safe, natural support to calm the central nervous system and encourage restful, refreshing sleep.*

Warnings --
If pregnant, consult your health professional before taking.

* These statements have not been evaluated by the Food and Drug Administration. This product is not intended to diagnose, treat, cure, or prevent any disease.