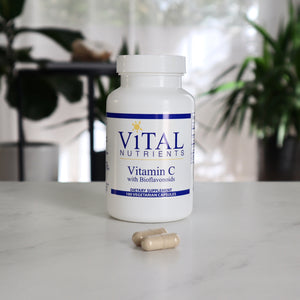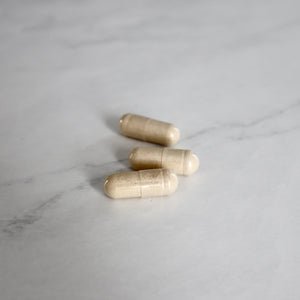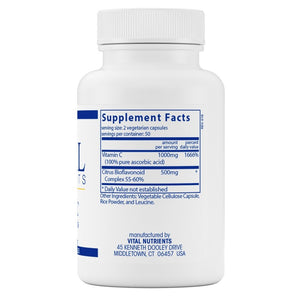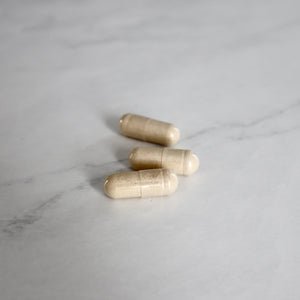 Vitamin C with Bioflavanoids
Basic Info --
Brand: Vital Nutrients
Size: 100 vegetarian capsules
Suggested Use: 1-2 capsules, 2-4 times daily with food, or as directed by a healthcare practitioner.

Benefits --
supports the immune system*
promotes vein and capillary health*
helps support stable mast cells*

Vitamin C with Bioflavonoids combines two powerful synergistic nutrients to enhance immune function and antioxidant activity.* Vitamin C helps the body's immune system by supporting antibody responses and white blood cell function and activity, while helping to maintain normal immune messenger molecules.* As a potent antioxidant, Vitamin C scavenges reactive oxygen species, protecting cells and tissues from oxidative damage.* This formula also contains a 55-60% Citrus Bioflavonoid Complex.* Derived from the pith or white part of the citrus rind, Bioflavonoids help support vein health, normal capillary permeability and histamine levels, and may be particularly useful for those interested in maintaining normal respiratory and sinus function.*

Warnings:
If pregnant, consult your health professional before taking.

* These statements have not been evaluated by the Food and Drug Administration. This product is not intended to diagnose, treat, cure, or prevent any disease.